We offer two kinds of APIs for developers. The Bot API allows you to easily create programs that use Telegram messages for an interface. The Telegram API and TDLib allow you to build your own customized Telegram clients. You are welcome to use both APIs free of charge.
You can also add Telegram Widgets to your website.
---
Bot API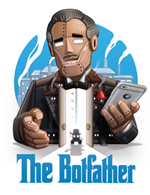 This API allows you to connect bots to our system. Telegram Bots are special accounts that do not require an additional phone number to set up. These accounts serve as an interface for code running somewhere on your server.
To use this, you don't need to know anything about how our MTProto encryption protocol works — our intermediary server will handle all encryption and communication with the Telegram API for you. You communicate with this server via a simple HTTPS-interface that offers a simplified version of the Telegram API.
Bot developers can also make use of our Payments API to accept payments from Telegram users around the world.
---
TDLib – build your own Telegram
Even if you're looking for maximum customization, you don't have to create your app from scratch. Try our Telegram Database Library (or simply TDLib), a tool for third-party developers that makes it easy to build fast, secure and feature-rich Telegram apps.
TDLib takes care of all network implementation details, encryption and local data storage, so that you can dedicate more time to design, responsive interfaces and beautiful animations.
TDLib supports all Telegram features and makes developing Telegram apps a breeze on any platform. It can be used on Android, iOS, Windows, macOS, Linux and virtually any other system. The library is open source and compatible with virtually any programming language.
---
Telegram API
This API allows you to build your own customized Telegram clients. It is 100% open for all developers who wish to create Telegram applications on our platform. Feel free to study the open source code of existing Telegram applications for examples of how things work here. Don't forget to register your application in our system.
Getting started
How to get your application identifier and create a new Telegram app.
How to register a user's phone to start using the API.
How to handle API return errors correctly.
How to connect to the closest DC access point for faster interaction with the API, and things to watch out for when developing a client.
How to sign for updates and handle incoming messages.
How to sign for and handle notifications.
Additional options for calling methods.
How to transfer large data batches correctly.
Security
New feature for end-to-end-encrypted messaging.
Important checks required in your client application.
Binding temporary authorization key to permanent ones.
Optimization
Ways to boost API interactions.
API methods
Documents in this section may be out of date.
Please see the TDLib documentation or the open source code of our apps.
A list of available high-level methods.
Text and JSON-presentation of types and methods used in API.
A list of available schema versions.